***OPEN BOX***
This OPEN BOX product you are browsing has been inspected by our qualified technicians to ensure that it meets factory specifications and includes all factory packed accessories. It is guaranteed to be in perfect working order but it is sold in "AS IS" condition (for example, the box may be torn, there may be cosmetic scratches, etc), returns will not be accepted unless the item is found to be defective. Please contact us with any questions BEFORE placing an order. We accept PayPal and all major credit cards. We do our best to describe each item we are selling to the best of our ability. Bear in mind that the item is sold as-is.
Use the "contact us" page to request additional information or images on this product
Linx Audio Technology
Although the speaker components differ, all three headphones share Able Planet's patented Linx Audio technology. Originally developed for a new generation of top-of-the-line hearing aids, Linx Audio technology alters the audio signal to increase the intensity of higher-frequency harmonics. This makes it easier to hear words, music, and sounds in the higher frequencies where clarity is often lost, while also ensuring that speech and other high-frequency sounds are not smothered by bass tracks. Able Planet compares the results to the difference between hearing a "C" note on a piano as opposed to a "C" chord. The "C" chord, which sounds richer and more complex, demonstrates the impact of adding harmonics to the audio signal.
Special Features:
Patented LINX AUDIO Technology
InWire volume control for easy adjustment to safe listening levels
State -of-the -art active noise cancellation (ANC)
Superior comfort perfect for travel
Design Benefits:
ANC Reduces Ambient Noise by up to 98%
Silver Paint with Chrome Ring
Soft Ear Cushions for maximum comfort and extended wear
Padded Durable Headband with Steel Slides
Dual Battery Design for Extended Play time
Optimal Sound Clarity and Speech Quality
Technical Specifications:
Frequency response: 20 Hz-20 kHz
Sensitivity at 1 kHz: 103 +/- 4 (O); 107 +/- 4 dB (On)
Plug: 3.5 mm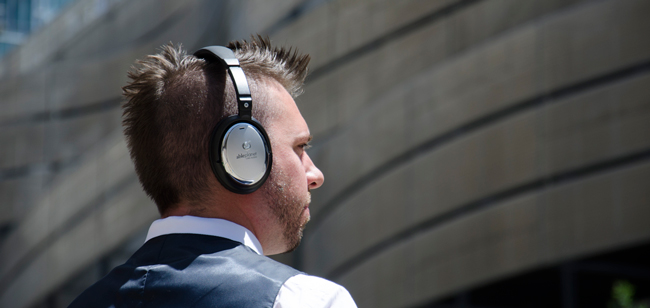 Included:
Hard protective carrying case. Perfect for the frequent traveler.
InWire Volume Control
Two AAA batteries
1/4" Home stereo adapter
Dual pin airplane adapter
Warranty:
Limited Lifetime Warranty