The PowerShot SX40 HS is a versatile compact point-and-shoot camera that easily captures amazing photos and videos. The PowerShot SX40 HS is a versatile compact point-and-shoot camera that easily captures amazing photos and videos. The Canon HS SYSTEM boosts low-light performance with the new Canon DIGIC 5 Image Processor and a high-sensitivity 12.1 Megapixel CMOS sensor. This advanced Canon technology delivers stunning image quality with reduced noise and blur. Colors are more vibrant and white balance is true-to-life. The 35x Optical Zoom offers incredible reach and range, allowing you to shoot any scene, near or far. The Optical Image Stabilizer helps images come out steady and clear, and a 24mm ultra Wide-Angle lens makes it easy to take pictures of large groups of people, tall buildings, expansive landscapes and much more. The camera also features a 2.7-inch Vari-angle LCD for great shooting flexibility. Packed with an array of powerful technologies, the PowerShot SX40 HS is a convenient digital camera capable of brilliant image capture.
Canon's high powered 35x Wide-Angle Optical Zoom (24-840mm) with Optical Image Stabilizer delivers magnificent images whether you are up close or far away. 35x Wide-Angle Optical Zoom and 24mm Lens
The PowerShot SX40 HS is equipped with a Genuine Canon 35x Zoom lens that provides the telephoto power to bring your distant subjects incredibly close. It also features a useful zoom range that begins at 24mm wide-angle and extends to 840mm telephoto (35mm equivalent). The 24mm ultra Wide-Angle allows you to create shots with dramatic perspective and makes it easy to shoot sweeping landscapes, large groups of people and tall buildings. This superb lens delivers outstanding optical performance throughout its zoom range. It's advanced design employs UD glass, double-sided aspherical glass-molded and ultra-high-refraction-index glass lens elements to effectively suppress chromatic aberration while maintaining a remarkably compact size. The camera uses a VCM (Voice Coil Motor) for high-speed, quiet, energy-efficient lens movement with precise control.

2.7-inch wide Vari-Angle LCD enables easy viewing from any angle.
The PowerShot SX40 HS features a convenient and highly useful 2.7-inch Vari-Angle LCD screen that swivels out almost a full 180 degrees. It also rotates through approximately 270 degrees, letting you tilt it up or down to shoot at low or high angles. You can compose freely even when shooting from difficult vantage points and use the full range of angle adjustment even when the camera is mounted on a tripod. You can even rotate the LCD facing forward to capture perfectly framed self-portraits and to join group shots. The PureColor System LCD screen has 230,000 dots, giving you a crisp, clear picture to make shooting, playback and using the camera's menu functions especially convenient.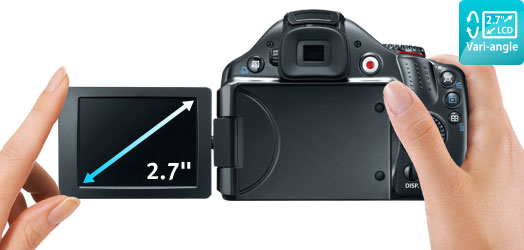 12.1 Megapixel CMOS sensor combined with the new DIGIC 5 Image Processor creates the Canon HS SYSTEM for improved low-light performance up to ISO 3200 and enhanced image quality.
The latest-generation Canon DIGIC 5 Image Processor brings phenomenal increases in processing speed and power. Improved chip architecture and algorithms deliver greatly expanded functionality with further refinement in image quality. Improved noise reduction produces clearer images when shooting in low light at high ISO speeds. Enhanced i-Contrast performance adjusts differences between light and dark areas to achieve even more natural-looking results. The faster processing speed also results in faster continuous shooting capability while maintaining full image quality. The DIGIC 5 Image Processor also makes possible a new, highly advanced automatic white balance system. Whereas conventional white balance makes an overall adjustment based on a single type of light source, the new Canon Multi-Area White Balance analyzes several areas of the image to determine whether different adjustments are needed, for example, for the main subject and the background.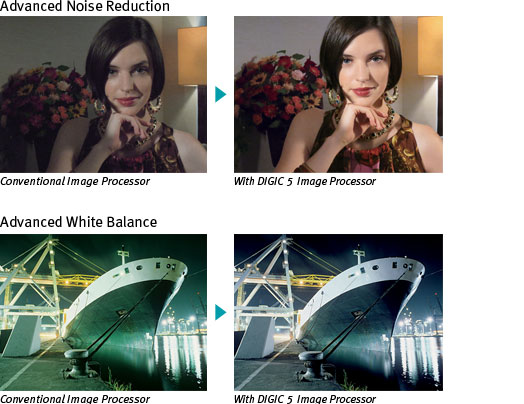 Canon HS SYSTEM
The Canon HS SYSTEM lets you take bright, clear photos in an even wider range of shooting situations. Beautiful low-light shots are possible with minimal noise and maximum detail in highlight and shadow areas. The system is the result of two technologies brought together in PowerShot cameras: a high-sensitivity imaging sensor, which is able to capture more light; and the DIGIC Image Processor, which actively reduces noise with high-speed image processing. The 12.1 Megapixel Canon CMOS sensor in the PowerShot SX40 HS incorporates advanced light reception technology that enhances sensitivity. The new DIGIC 5 Image Processor provides a major boost in noise reduction, expanding the usable ISO range to an amazing high of ISO 3200. The Canon HS SYSTEM thus lets you use higher shutter speeds to capture clearer images with reduced noise and blur.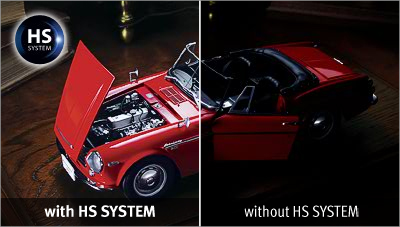 Capture stunning Full HD 1080p video in stereo sound with a dedicated movie button; zoom while shooting and play back videos on an HDTV via the HDMI output.
In addition to the Canon HS SYSTEM, the combination of the advanced CMOS sensor and DIGIC 5 Image Processor in the PowerShot SX40 HS makes it possible to shoot crisp, clear high definition video. Imagine the fun and excitement of being able to shoot spectacular 1080p Full HD video with stereo sound that you can later watch on your HDTV or download to your computer to share with family and friends. The PowerShot SX40 HS shoots Full HD video at 24* frames per second, ensuring clear lifelike motion images with a beautiful cinematic quality. It also shoots beautifully detailed 720p HD video at 30 fps.**
*Actual frame rate is 23.976 fps.
**Actual frame rate is 29.97 fps.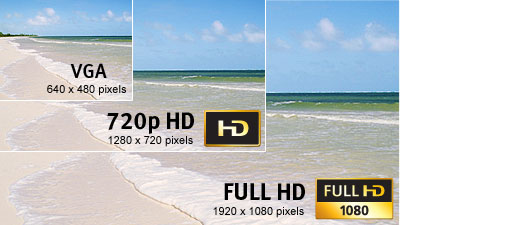 Dedicated Movie Button, Wind Filter and Optical Zoom While Shooting
It's never been easier to shoot videos with a PowerShot digital camera. The PowerShot SX40 HS has a dedicated movie button that lets you start and stop recording instantly. There is no need to go through layers of menus or operate switches or dials to switch to and from video recording mode. The camera is always ready to shoot stills or video whenever you want. The PowerShot SX40 HS also incorporates an electronic wind filter, which suppresses wind noise that can muffle or distort the sound. And unlike less sophisticated point-and-shoot cameras, the PowerShot SX40 HS lets you use the full range of optical zoom when you're shooting a video.

HDTV Playback via HDMI with CEC Support
It's easy to enjoy and share the videos you shoot with the PowerShot SX40 HS. Simply connect its HDMI terminal to your HDTV using an HDMI cable. And because the PowerShot SX40 HS supports HDMI-CEC technology, you'll be able to control the playback of your images and videos on any CEC-enabled HDTV using the TV's remote control. (CEC - Consumer Electronic Control - is part of the HDMI specification, enabling components in a system to communicate with one another.)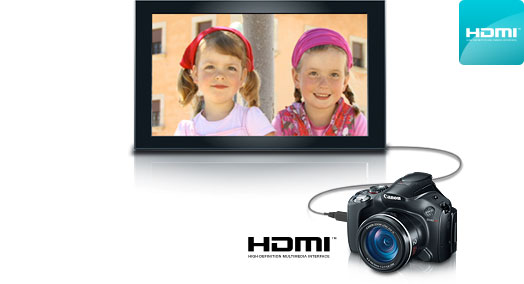 iFrame Movie Support
With the PowerShot SX40 HS, you can also shoot video in the Apple? iFrame format, which is a computer-friendly standard that speeds up importing and editing of videos. It keeps file sizes small, making it more convenient to upload or e-mail high-quality videos. The iFrame format enjoys native support in compatible Mac and Windows video applications, making it unnecessary to perform time-consuming and often quality-degrading conversions.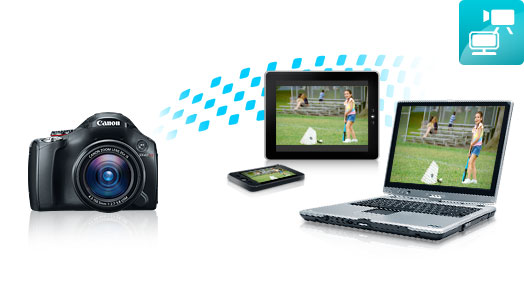 Intelligent IS automatically chooses from six different modes to optimize image stabilization for the shooting condition.
The latest advance in Canon Optical Image Stabilization technology, Intelligent IS analyzes camera movement and applies the best shake correction method for the shooting situation. For stills, the system automatically selects among Normal, Panning, Macro (Hybrid) and Tripod IS modes. When shooting video, the system automatically selects among Dynamic, Powered, Macro and Tripod IS modes. With Intelligent IS, you can concentrate on image capture, letting the camera make the most effective IS settings to assure the steadiest possible image.
Handheld shooting can often lead to camera shake, making photos and videos blurry. Canon's Optical Image Stabilizer is a sophisticated system that uses lens-shift technology to correct for unwanted camera movement. It makes handheld photography more practical, providing excellent image quality in many difficult shooting situations: outdoors at dusk, inside without a flash, and even at the telephoto end of the zoom range without a tripod. For photos, it enables shooting at slower shutter speeds, accommodating more low-light shooting situations than ever before without having to boost ISO sensitivity. With camera shake and vibration reduced, you get a sharper, steadier image. And because it is an optical system, there is none of the image degradation typical with electronic image stabilizers.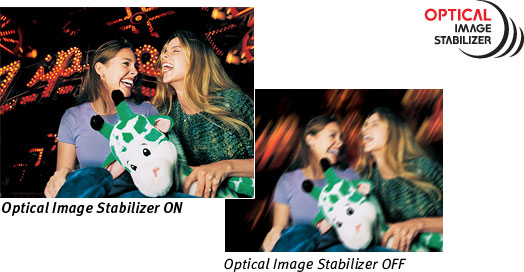 High-Speed Burst HQ allows for continuous capture at a maximum of 8 frames while maintaining superb image quality and Super Slow Motion Movie records video at high speeds to allow playback in slow motion.
Utilizing the increased processing speed and power of the new Canon DIGIC 5 Image Processor, High-Speed Burst HQ makes it possible to capture fast action stills at full resolution during continuous shooting. The results are exceptionally high-quality images recorded in rapid sequence. In this mode, the PowerShot SX40 HS can capture a maximum of 8 shots in a single burst. The continuous shooting speed is approx. 10.3 fps.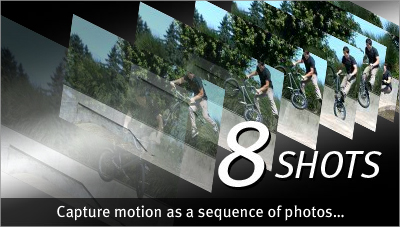 Shooting Modes
PowerShot cameras offer shooting modes that make it easy to take perfect photos in a wide range of shooting situations by providing intelligent presets with optimized settings.
Custom - Define and store your own settings to achieve the effects you prefer.
Manual - You have complete control of exposure, selecting both aperture and shutter speed manually.
Aperture-Priority - You set the aperture, controlling depth-of-field. The camera automatically selects the shutter speed.
Shutter-priority - You select the shutter speed to stop or blur action, and the camera finds the appropriate aperture. With slow exposure times, Canon's noise reduction system activates to ensure low image noise.
Program - Access advanced exposure compensation features while shooting mostly automatically.
Smart AUTO - The camera automatically selects the best shooting settings for optimal quality based on subjects and environmental factors to provide point-and-shoot simplicity.
Sports - The camera uses high shutter speeds to capture fast-moving subjects.
Movie Digest - Records a video clip before capturing a still image and then combines one day's worth of clips into a video.
Portrait - The camera sets a large aperture, focusing the subject and artistically blurring the background to make your subject "pop."
Landscape - Increases depth-of-field for sharp and sweeping landscape shots.
Smart Shutter - The camera automatically takes the photo when people smile, wink, or get into frame.
High-Speed Burst HQ - Captures fast-action shots at full sensor resolution, by shooting continuously when the shutter button is held down.
Handheld Night Scene - Take clear and steady pictures at night without the use of a tripod.
Low Light - For high quality image capture in an amazing range of dimly-lit situations.
Beach - Get clear shots of people at a sunny beach without darkened faces.
Foliage - Capture brilliant shots of autumn foliage, greenery and blossoms.
Snow - Shoot clear snow scenes without darkened subjects or an unnatural bluish tint.
Fireworks - Grab brilliant images of skyrocketing fireworks.
Stitch Assist - Easy-to-use guidelines simplify the shooting of aligned multiple frames that can later be combined (using bundled software) to create panoramic photos.
Creative Filters - This setting provides easy access to special filter effects and scene modes, such as Toy Camera Effect, Poster Effect, Monochrome and more.
Fisheye Effect - Add a classic photo distortion without a fisheye lens.
Miniature Effect for Movies & Stills - Emphasizes perspectives for a miniature effect by blurring upper and bottom portions of the image.
Toy Camera Effect - Simulates photos taken with "toy" or pinhole cameras, darkening the image at the edges to create a vignette effect.
Monochrome - Choose from three single-tone effects: Black-and-White, Sepia, or Blue.
Super Vivid Super Vivid intensifies existing hues, saturating the scene with bright colors.
Poster Effect - Poster Effect combines several similar shades into one color, turning subtle gradations into eye-catching, scene-popping contrasts.
Color Accent - Choose to retain a single color in your image while other colors turn monochrome.
Color Swap - Select a color and replace it with a color you specify for special effects.
Movie Record video in stereo sound. Unwanted scenes can be deleted in playback mode.
iFrame Movie - The Apple movie format, iFrame, makes it easier and quicker to import and upload videos while retaining high image quality.
Super Slow - Motion Movie Record your clips in high speed (approx. 240 fps), and then watch your videos in slow motion.

Movie Digest
Creating a video containing highlights of a family vacation or an important occasion is a lot easier than you might think. When you use Movie Digest on the PowerShot SX40 HS, the camera will automatically record a short video clip (up to approximately 4 seconds) every time you shoot a still image. That entire day's worth of clips will then be automatically combined into a single video. Movie Digest does all the work, so you can sit back and enjoy your video!
How does this work? When you activate Movie Digest, the camera continuously records a "loop" of video up to 4 seconds long into an area of the memory card reserved for this feature. Every time you take a still photo, the video clip residing in memory at that time is appended to a file that will eventually become the day's highlights video. The following day, the camera will start a new video file. Movie Digest does not affect regular video shooting, so you can use it and still switch between still and video capture as desired.
Although the beauty of Movie Digest is the ease with which you can create a video of the day, you can, if you wish, edit the created videos on your computer. Version 6.8 or later of the included ZoomBrowser EX (for Windows) and ImageBrowser (for Mac OS) software lets you freely select and delete unwanted scenes from your Movie Digest videos.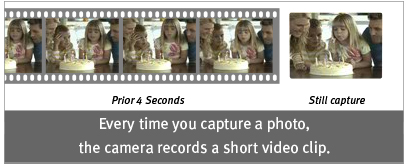 Zoom Framing Assist button aids in tracking and capturing subjects during super telephoto photography.
With its 35x Optical Zoom lens, the PowerShot SX40 HS has the telephoto reach to capture subjects a long distance away. At maximum telephoto, however, it can be very difficult to track a moving subject while trying to steady the camera. Zoom Framing Assist is an inventive feature that makes it much easier to use the camera's powerful zoom lens. When you press and hold the Zoom Framing Assist function button, the camera will automatically zoom out to include a wider angle of view, enabling you to more easily locate your moving target on the LCD screen or through the electronic viewfinder. Once you find it, releasing the button will cause the lens to return to its original telephoto position, intelligently keeping the subject in focus so that you?re ready to shoot and capture the perfect close-up moment.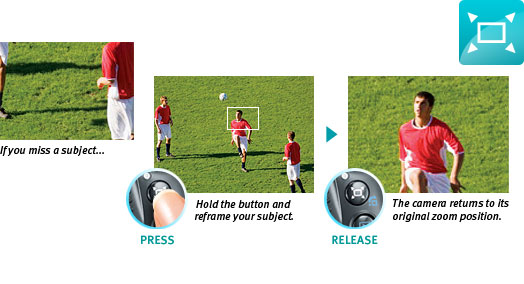 Improved Smart AUTO intelligently selects the proper settings for the camera based on 32 predefined shooting situations.
Photographers of all levels appreciate a camera that takes the hassle out of capturing beautiful images. The PowerShot SX40 HS gives you Smart AUTO - sophisticated Canon technology that makes getting that great shot as simple as pressing the shutter button. Smart AUTO automatically detects scenes by assessing various factors in both the background and the subject. Detected scenes are analyzed using 32 predefined shooting situations. The camera then makes optimal settings to ensure the best possible image capture, whether you're shooting stills or video. Smart AUTO also includes Advanced Subject Detection, which allows the camera to detect and track non-human moving subjects like animals and vehicles. With Smart AUTO, all you have to do is compose then take your shot. You get the results you want.

Face Detection Technology & Smart Shutter
Face Detection technology makes it easy for you to take great photos of people. The camera will automatically detect the face(s) in a frame to give it optimal focus, exposure, flash (if needed) and white balance. Smart Shutter adds fun and convenience to Face Detection because you can set the camera to release the shutter when someone winks, smiles or even enters the frame.

Best Image Selection
Best Image Selection is an easy way to get great results almost every time you take a picture. When you press the shutter release, the camera will rapidly shoot a series of five images, then assess the images for any unwanted facial movements and camera shake. Out of the five images, the camera will select and save the best one. Image resolution is 1984 x 1488 pixels when shooting with Best Image Selection.

Available in 27 Languages
With the new addition of Hindi, there are a total of 27 display languages from which you can choose: English, German, French, Dutch, Danish, Finnish, Italian, Norwegian, Swedish, Spanish, Simplified/Traditional Chinese, Japanese, Russian, Portuguese, Korean, Greek, Polish, Czech, Hungarian, Turkish, Thai, Arabic, Romanian, Ukrainian, Farsi and Hindi.