Our Best Smart Camera. Upgraded and Downsized.
Striking a balance between resolution, performance and design, the Samsung NX20 SMART Camera unleashes the professional photographer in all of us. Its sensitive 20.3MP APS-C CMOS Sensor and 1/8000 shutter speed help you capture richly nuanced, highly defined images in the blink of an eye. The clear AMOLED Swivel Display makes shooting from any angle comfortable. And with built-in WiFi you can instantly upload great pictures to social networking sites and securely store them, right from the camera.
No Speed Limit. No Boundaries.
Introducing the 20.3 megapixels Samsung Smart Camera NX20 with 1/8000 fast shutter and Built-in WiFi.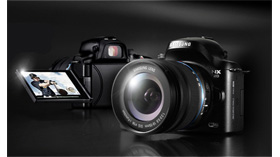 20.3MP APS-C Sensor
Customized for the NX System, the brand-new, professional-grade, 20.3MP APS-C CMOS Sensor produces images that rival those of any premium DSLR. Each individual pixel has a large sensor area and receives more light, guaranteeing low noise levels, high dynamic range and accurate color differentiation. The higher sensitivity allows you to shoot during low-light situations without graininess or other noise. The new sensor also provides Full HD video output capabilities.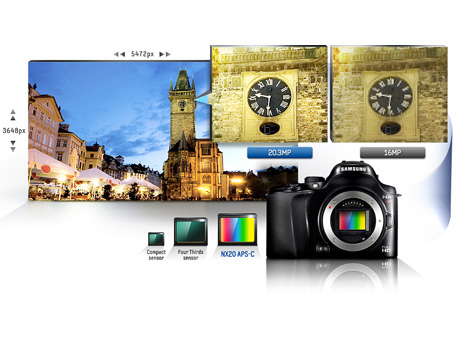 1/8000 Fast Shutter
Shutter speed can make the difference between capturing an iconic image and missing a once-in-a-lifetime opportunity. The NX20's 1/8000 shutter speed gives you the flexibility to shoot like the pros?at varying speeds and light exposures. The NX20's shutter even automatically adjusts itself as it senses environmental factors such as temperature and camera direction. And the electronically controlled focal-plane shutter reduces exposure errors.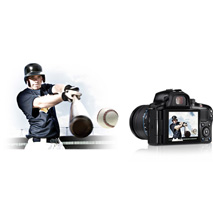 A Touch of TouchWiz
The NX20's High Speed Capture capabilities let you catch fleeting moments and fast-moving objects without requiring a separate sensor module. The NX System features an ultra-high-speed Auto Focus that can rival that of almost any system camera. Its all-new, advanced algorithm delivers faster and more accurate auto focus. The NX20 can shoot at 8 frames per second for better continuous shooting, and shutter lag has been reduced to just 40ms.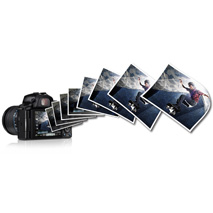 Discover the True Beauty of HD Video
Built with 1080 30p Full HD movie recording capabilities, the NX20 transforms shooting video with a still camera into an art form. Choose from a wide range of viewing angles and zoom with confidence. The mirrorless CMOS image sensor offers precise auto focus even while you shoot. For a truly cinematic experience, the NX System has been fitted with an 18-200mm lens exclusively for Full HD video.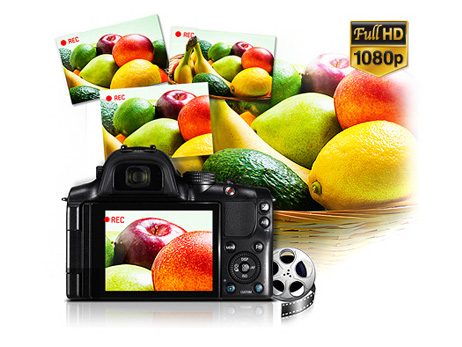 Instant Sharing via Wi-Fi
The NX20's Wi-Fi connectivity lets you connect your digital camera to a wireless network. Save photos and videos directly to a computer or cloud service while you shoot, email them, print them wirelessly, or upload them straight to Facebook?, Twitter or YouTube. You'll never have to worry about losing a great shot, running out of storage space, or remembering to bring the right cable along.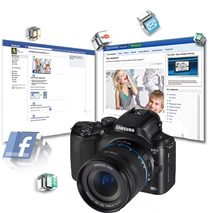 See More. Shoot More.
The Clear AMOLED Swivel Display lets you precisely frame images and shoot from just about any angle. Compared to the TFT-LCD found on most digital cameras, the NX20's AMOLED display has deeper blacks and more accurate, vivid colors?even when viewed in direct sunlight. You'll know right away if your shot is the one you want. The display also maximizes battery life so you can shoot longer.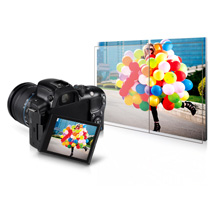 Wide Range ISO (12800, 7 Steps)
Wide Range ISO makes any lighting situation the perfect one. The ability to shoot as high as ISO 12,800 at normal settings means that even in low light, you'll get rich tonal gradations and true colors. You'll also capture clear, crisp images of fast-moving objects.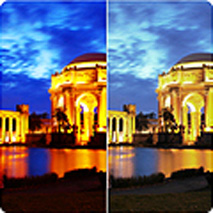 i-Function 2.0
The i-Function 2.0 system makes it easy to adjust key camera settings through a single button and the value ring located on the lens, instead of the body. Designed for the novice and expert alike, i-Function 2.0 lets you quickly choose the settings that best fit the moment?and your expertise.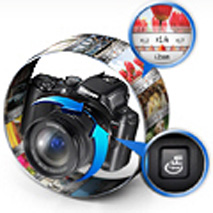 A Better Window on the World
A key feature of the NX20 is the built-in electronic view finder (EVF). Unlike many cameras in its class, the NX20 provides photographers with a true window into reality for both short and long distances. So now you can perfectly frame each shot without any guesswork.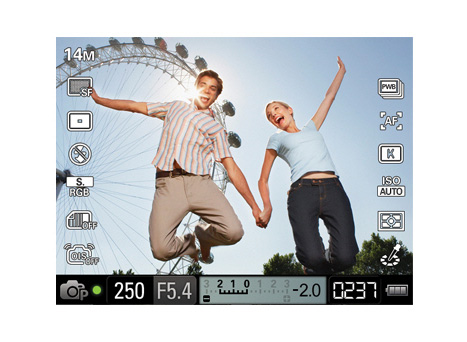 Specifications
20.3MP CMOS Sensor
ISO 100 to 12,800
3.0" Tilt swivel AMOLED VGA display
SVGA EVF w/Eye Contact Sensor
Shutter speeds 1/8000sec to ~30sec
8FPS
TTL Pop Up FlashSamsung NX lens mount
Bundled 18-55mm lens
Features
WiFi connectivity
SNS upload
Email share
PC Auto Backup
Remote ViewFinder
i-Function 2.0
Optical Image Stabilization (depends on lens)
Full HD Movie Recording
HDMI output
H.264
1080p @ 30fps
Smart Auto 2.0
Smart Filter 3.0
Face Detection
3D Panorama Shot
Live Panorama
Intelli-Studio 3.0
Raw file support
HS recording
Geo-tagging with optional GPS
Dimensions: 4.8"W x 3.5"H x 1.5"D