Ultra-sensitive artistry.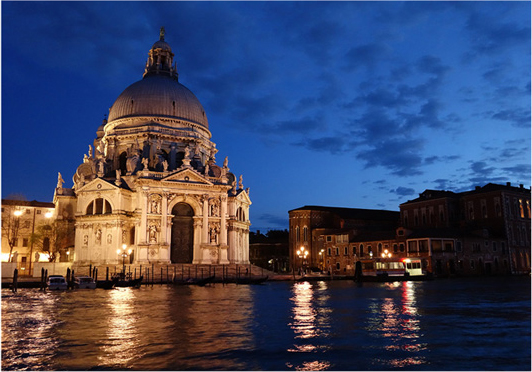 When beautiful scenery inspires the artist within, capture every exquisite detail with the compact Cyber-shot RX100 II. You'll enjoy extraordinary light sensitivity, breathtaking image quality and beautiful background defocusing thanks to a newly developed 1.0-inch back-illuminated CMOS sensor and f/1.8 lens.
Amazing low-light shots.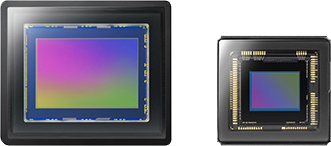 Extremely high sensitivity and remarkably low noise are achieved by Sony's massive new 20.2-megapixel Exmor R CMOS sensor. Its back illumination technology collects light more efficiently and combines with image processing advances to bring noise to unbelievably low levels - equivalent to noise one stop lower sensitivity in the renowned RX100 II.
Beautiful defocused backgrounds.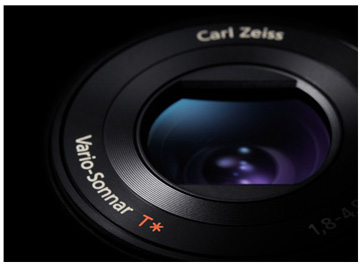 Legendary Carl Zeiss optics and unrivaled Sony imaging technology merge in a compact, high-performance lens that offers supremely accurate performance, powerful 3.6x (28-100mm at 35mm equivalent) optical zoom capabilities and an enormous f/1.8 aperture with almost perfectly round seven-blade diaphragm for beautiful background defocusing.
Wireless sharing to smartphones and tablets.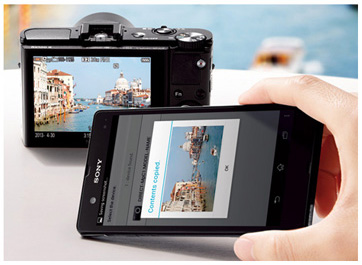 Touch your Android smartphone or tablet to the camera to create a connection. No setup is required beyond downloading the free PlayMemories Mobile app to your device. Made possible by NFC technology, once connected, you can remotely control the camera's shutter release from your mobile device and instantly receive the captured image via Wi-Fi.
High-fidelity BIONZ image processing engine.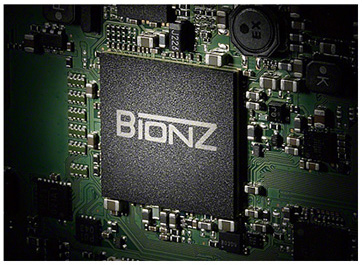 Sony's BIONZ imaging engine employs powerful algorithms to transform data captured by the CMOS sensor into beautiful images with accurate color, rich tonal gradations and minimal noise. It brings out the beauty of images captured at high ISO settings - up to ISO 12800, which surpasses the RX100 II - and handles the most demanding tasks with precision.
Expand your shooting options.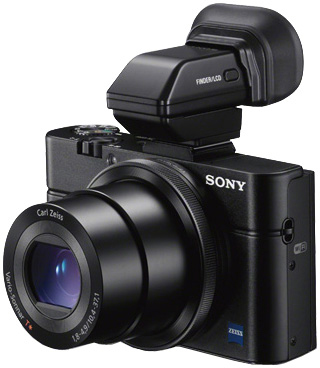 A Multi Interface Shoe lets you attach wide-ranging accessories for photo and movie shooting. These include an electronic viewfinder, powerful external flash unit and stereo microphone. You can also connect with a compatible remote control via Multi Terminal.
Shoot from the hip.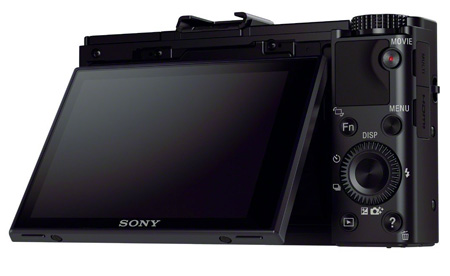 The 3.0-inch, 1,229k-dot Xtra Fine monitor displays scenes extra clearly, even in bright sunlight. It can be tilted up to 45 degrees downward to shoot over crowds or up to 84 degrees upward to capture pets eye to eye. You'll enjoy clear, faithful reproduction thanks to WhiteMagic wizardry, which combines white and RGB pixels to boost brightness and visibility.
Features:
20.2 MP 1-inch Exmor R Sensor
The world's first 1.0" CMOS sensor featuring an Exmor R image sensor technology. With this back-illuminated technology, the sensor doubles light sensitivity and combines with Sony's Column A/D Conversion to reduce noise by half - a great help when photographing in dimly lit environments. Markedly reduced noise is evident even when high-sensitivity settings are used for capturing night landscapes or indoor scenes.
High speed Auto Focus
To improve focusing speed and sensitivity, the Exmor R CMOS sensor uses its rapid throughput to deliver high-quality image signals to the camera's BIONZ processor, which provides intelligent response data to a new high speed actuator motor in the lens. The result is fast, DSLR-like focusing speeds even in low light.
New Multi Interface Shoe connector
Users can expand photographic and movie shooting possibilities by attaching optional accessories via the Multi Interface Shoe, including an electronic viewfinder, powerful external flash and stereo microphone. You can also connect with a compatible remote control via Multi Terminal.
Auto Object Framing
Give your photos a professional look with Auto Object Framing. Featuring advancements like exceptional two-person portrait capability along with Face Detection and Tracking Focus, Auto Object Framing not only turns ordinary photos into stunning compositions but does so automatically recognizing the scene then cropping accordingly.
Picture Effect mode
Realize your creative potential with Picture Effect, a fun and simple way to convert ordinary landscapes and portraits come to life by heightening mood and emphasizing certain attributes. Effects are Soft Focus, Posterization, Retro Photo, High Contrast Monochrome, Rich-tone Monochrome, Miniature, Soft High-key, Toy Camera, Pop Color, Partial Color, Watercolor Painting, HDR Painting, and Illustration.
Carl Zeiss T F1.8 3.6x optical zoom
The large-diameter F1.8 Carl Zeiss Vario-Sonnar T lens delivers refined background defocusing - bokeh. A premium multi-layered T coating also dramatically reduces ghost and flare caused by light reflection.
Comfortable control ring for manual operation
A unique control ring around the lens works in combination with an intuitive, displayed user interface for meticulous SLR-type control over settings that satisfies even the most fastidious users. The control ring can be assigned to adjust various features (at various values) from basics like zooming and aperture to creative functions like Picture Effect. Moreover, it turns smoothly and seamlessly, allowing quiet, click-free usage while shooting movies including a new step-zoom function that enables instant selection of commonly used focal lengths.
Full HD Movies at 60p/60i/24p
Capture HD Movies in your choice of super-smooth 60p, standard 60i or cinematic 24p, all at Full HD 1920x1080 resolution. AVCHD codec delivers stunning picture quality. MP4 codec offers smaller files for easier upload to the web.
Optical SteadyShot with 3-way Active Mode
Optical SteadyShot image stabilization reduces shake and blur by countering camera movements in both horizontal and vertical directions. Active 3-Way stabilization adds digital rolling control that counters clockwise and anti-clockwise rotation, resulting in more stable videos even at long focal lengths. Active 3-Way stabilization adds digital rolling control that counters clockwise and anti-clockwise rotation, resulting in more stable videos even at long focal lengths.
Expanded ISO Sensitivity
With a new Exmor R sensor that features the same adaptive noise reduction technology from Sony's flagship SLT-A99V, the DSC-RX100M2 easily offers a wide range of sensitivity from ISO 160 to ISO 12800.
Capture JPEG files, RAW files, or both
The DSC-RX100M2 saves pictures as compact JPEG files and/or ultra-high quality RAW files. RAW files save images prior to de-mosaicking, white balance, sharpness and color enhancement. This retains maximum latitude for enhancing the image on your PC.
Tiltable 3.0" Xtra Fine LCD
The tiltable 3" (1,229k dots) Xtra Fine LCD Display makes it easy to photograph over crowds or low to capture pets eye to eye by swinging up approx. 84 degrees and down approx. 45 degrees. Easily scroll through menus and preview life thanks to WhiteMagic technology that dramatically increases visibility in bright daylight. The large display delivers brilliant-quality still images and movies while enabling easy focusing operation.
Multi-aspect ratio recording for still images
Capture still images in any of four aspect ratios - 1:1, 2:3, 4:3, or 16:9 (vertical to horizontal). This provided the freedom to choose a ratio that matches the scene or the specific shooting purpose.
Specifications:
Camera
Camera Type : Cybershot Digital Still Camera
Lens Compatibility : Fixed lens
Optics/Lens
Lens Type : Carl Zeiss Vario-Sonnar T
Aperture : F1.8 - 11 (W), F4.9 - 11 (T)
Aperture (Max.) : F1.8 (W), F4.9 (T)
Aperture (Min.) : F11 (W), F11 (T)
Optical Zoom : 3.6x (Optical Zoom during movie recording)
Digital Zoom : Still Image: 20M approx. 14x / 10M approx. 20x / 5M approx. 28x / VGA approx. 54x Movie: 14x
Focal Length (35mm equivalent) : [Still Image 3:2] f = 28-100mm [Still Image 16:9] f = 29-105mm [Still Image 4:3] f= 30-108mm [Still Image 1:1] f = 36-127mm [Movie 16:9] f = 29-105mm (SteadyShot Standard), f = 33-120mm (SteadyShot Active Mode) [Movie 4:3] f = 36-128mm (SteadyShot Standard), f = 41-146mm (SteadyShot Active Mode)
Lens Construction : 7 elements in 6 groups (4 aspheric elements including AA lenses)
Aperture Blade : Iris diaphragm (7 blades)
Clear Image Zoom : 7.2x
Steady Shot Mode:Active : [Still image] Optical [Movie] Active Mode, Optical type with electronic compensation (Anti-rolling)
Exposure System
Metering Modes : Multi-segment, Center-weighted, Spot
Metering Sensitivity : EV 0 to 20 EV (at ISO100 equivalent, with F2.8 lens attached)
Exposure Compensation : +/- 3.0 EV, 1/3 EV step
Exposure Settings : [Still] Superior Auto, Intelligent Auto, Program Auto (Program shift available), Shutter Priority, Aperture Priority, Manual, Scene Selection, Movie, Sweep Panorama [Movie] Program Auto, Aperture Priority, Shutter Priority, Manual
Scene Mode(s) : Anti Motion Blur, Fireworks, Gourmet, Handheld Twilight, High Sensitivity, Landscape, Macro, Night Portrait, Night Scene, Pet Mode, Portrait, Sports Action, Sunset
D-Range Optimizer : Off, Dynamic Range Optimizer (Auto / Level), Auto High Dynamic Range: Off, Auto exposure difference, Exposure difference level (1.0 ? 6.0 EV, 1.0 EV step)
Auto Exposure Lock : Yes (AE Lock button). Can be disabled from menu
ISO : [Still Image] Auto (ISO 160 - 12800, selectable with upper / lower limit), 160 / 200 / 400 / 800 /1600 / 3200 / 6400 / 12800 (Expandable to ISO 100 / 125) Multi Frame NR: Auto (ISO 160 - 25600), 200 / 400 / 800 / 1600 / 3200 / 6400 / 12800 / 25600
Creative Style : Black & White, Landscape, Portrait, Standard, Sunset, Vivid Contrast (-3 to +3steps), Saturation(-3 to +3steps), Sharpness(-3 to +3steps)
White Balance Mode : Auto / Daylight / Shade / Cloudy / Incandescent / Fluor (Warm White) / Fluor (Cool White) / Fluor (Day White) / Fluor (Daylight) / Flash / C. Temp., Filter / Custom
Color Temperature : 2500 - 9900K with 15-step each Magenta/Green compensation (G7 to M7), Amber/Blue (A7 to B7), Custom
Exposure Bracketing : 3 continuous or single shots in 1/3 or 2/3 EV steps
ISO Sensitivity (Movie) : [Movie] Auto (ISO 160 - 3200 equivalent), 160 / 200 / 400 / 800 / 1600 / 3200
Picture Effect(s) : [Still Image] Toy Camera, Pop Color, Posterization, Retro Photo, Soft High- key, Partial Color, High Contrast Monochrome, Soft Focus, HDR Painting, Rich-tone Monochrome, Miniature, Watercolor, Illustration [Movie] Toy Camera, Pop Color, Posterization, Retro Photo, Soft High-key, Partial Color, High Contrast Monochrome
Convenience Features
Media/Battery Indicator : Yes
View & Index : Single (with or without shooting information), RGB histogram and highlight/shadow warning, 4/9-frame index view, Enlarged display mode (L: 13.6x, M: 9.9x, S: 6.8x), Auto Review (10/5/2 sec, Off), Image orientation (On/Off), Slideshow, Panorama scrolling, Folder selection (still), Forward/Rewind (movie), Delete, Protect
Imaging Sensor
Imaging Sensor : Exmor R 1.0" CMOS sensor (13.2 X 8.8mm) (3:2 aspect ratio)
Processor : BIONZ image processor
Pixel Gross : 20.9M pixels (approx.)
Effective Picture Resolution : 20.2M pixels (approx.)
Focal Length Conversion Factor : 2.7x
Color Filter System : RGB primary color filters
LCD Display
LCD Type : 3.0" (7.5cm) (4:3) / 1,229,000 dots / Xtra Fine / TFT LCD / Tiltable (up approx. 84 deg., down approx. 45 deg.)
Angle Adjustment : Tilt angle: Up: Approx. 84 degrees; Down: Approx. 43 degrees
Brightness Control : Auto / Manual (5 steps) / Sunny Weather mode
Coverage : 100% Field of View
Live View : Continuous Live View
Real-time image adjustment display : Yes (On/Off)
Histogram : Yes (On/off)
Peaking : Yes Level setting: High/Mid/Low/Off Color: White/Red/Yellow
Grid Display : Yes (Rule of Thirds, 4x6 Square, Diagonal & 4x6 Square Grids, Off)
Customization : Grid, Histogram display, Digital Level Gauge, Grid Line, Magnified display for playback
Drive System
Drive Mode : Single-shot, Continuous, Speed Priority Continuous, Self-timer (10/2 sec. delay), Self-timer (Cont.), Self-portrait One-person, Self-portrait Two-person, (with 10 sec. delay; 3/5 exposures), Bracketing
Continuous Shooting Speed : 10 fps at 20.2MP
Self-timer : 10 sec. / 2 sec. / Self-portrait One-person/ Self-portrait Two-person/ Self timer Continuous (3 or 5 shots)
Shutter Speeds : iAuto (4 - 1/2000) / Program Auto (1 - 1/2000) / Manual (Bulb, 30 - 1/2000) / Aperture Priority (8 - 1/2000) / Shutter Priority (30 - 1/2000)
Burst Buffer : JPEG Standard (12 shots) JPEG Fine (12 shots) RAW (13 shots) RAW+JPEG (10 shots)
Advanced Features
Auto High Dynamic Range : Yes, (Auto Exposure Difference, Exposure difference Level (1-6 EV at 1.0 EV step), off)
Sweep Panorama : Horizontal (Wide/Standard), Vertical (Wide/Standard)
Face Detection : On, Off, Face Registration, Face Selection; maximum eight faces detected
Smile Shutter technology : Smile shutter (selectable from 3 steps)
Image Stabilization : [Still Image] Optical [Movie] Active Mode, Optical type with electronic compensation (Anti-rolling)
Priority Setting (for Face Detection) : Yes (eight faces max)
Recording
Media Type : Memory Stick PRO Duo/Pro-HG Duo media; SD, SDHC and SDXC memory card
Color Space : sRGB standard (with sYCC gamut) and Adobe RGB standard compatible with TRILUMINOS Color
Still Image Mode : JPEG (Standard, Fine), RAW, RAW+JPEG
Still Image Max Effective Resolution : 20.2 Megapixels
Still Image Size 16:9 : L:17M (5472 x 3080) / M: 7.5M (3648 x 2056) / S: 4.2M (2720 x 1528)
Still Image Size 1:1 : L: 13M (3648x 3648) / M: 6.5M (2544 x 2544) / S: 3.7M (1920 x 1920 )
Still Image Size 3:2 : L: 20M (5472 x 3648) / M: 10M (3888 x 2592) / S: 5.0M (2736 x 1824)
Still Image Size 4:3 : L: 18M (4864 x 3648) / M: 10M (3648 x 2736) / S: 5.0M (2592 x 1944) / VGA
Panorama Still Image Size : Horizontal wide (12416 x 1856 / 5536 x 2160), Horizontal standard (8192 x 1856 / 3872 x 2160) 3D Sweep Panorama: N/A
Video Format : AVCHD Ver. 2.0 / MP4 (MPEG-4 AVC (H.264))
Video Mode : AVCHD: 28M PS (1920 x 1080, 60p) 24M FX (1920 x 1080, 60i) 17M FH (1920 x 1080, 60i) 24M FX (1920 x 1080, 24p) 17M FH (1920 x 1080, 24p) MP4: 12M (1440 x 1080, 30 fps) 3M VGA (640 x 480, 30 fps)
Video Signal : NTSC color, EIA standards
Audio Format : Dolby Digital (AC-3) / MPEG-4 AAC-LC
Microphone/Speaker : Built-in Stereo Microphone
Still Image File Format : JPEG (DCF Ver. 2.0, Exif Ver.2.3, MPF Baseline compliant), RAW (Sony ARW 2.3 format)
Wind Noise Reduction : Yes (On/Off)
Focus Control
Focus System : Contrast-detect AF
Focus Points : 25 points
AF Modes : Single-shot AF (AF-S) / Continuous AF (AF-C) / Direct Manual Focus (DMF) / Manual Focus
Focus Area : Multi point AF (25 points) / Center weighted AF / Flexible spot / Flexible spot (tracking focus) / Flexible spot (face tracking)
Focus Sensitivity : EV 0 to 20 EV (at ISO100 equivalent, with F2.8 lens attached)
Focus Features : Predictive control (AF-A, AF-C), Focus Lock
AF Illuminator : Built-in LED, Range: approx. 3' 4" - 9' 9" (0.3m-3.0m)
Flash
Flash Type : Built-in, Pop-up Auto
Flash Metering System : Pre-flash TTL
Flash Modes : Flash Mode: Auto / Fill-flash / Slow Sync / Rear Sync / Off Wireless (using compatible external flash)
Flash Compensation : 2.0 EV (switchable between 1/3 EV steps)
Flash Coverage : ISO Auto: 1' to 49' 2" (0.30m to 15.0m) (W) / 1' 9" - 18' 8" (0.55m to 5.7m) (T) ISO 12800: Up to 98' 5" (30.0m) (W) / 37' (11.3m) (T)
Recycling Time : Approx. 3 sec.
Flash Bracketing : 2.0 EV
Interface
Memory Card Slot : Dual compatibility slot: Memory Stick PRO Duo/Pro-HG Duo/PRO-HG HX Duo media - SD, SDHC and SDXC memory card
NFC : Yes (NFC Forum Type 3 Tag compatible, One-touch remote, One-touch sharing)
Wi-Fi : Yes
HD Output : HDMI (Type D micro)
USB Port(s) : USB 2.0 Hi-speed (mass-storage, MTP)
BRAVIA Sync : Yes, via HDMI with compatible BRAVIA HDTV (link menu)
PhotoTV HD : Yes, with BRAVIA Sync enabled HDTV and HDMI cable
Microphone Input : Via MI Shoe + Optional ECM-XYST1M
Remote Commander : Yes, via RM-VPR1
Accessory Shoe : Multi Interface Shoe
DC IN : Yes, via AC-UB10 AC charger and USB cable
Tripod Mount : Yes (1/4" diameter, 20 threads per inch)
Software
Supplied Software : Supplied Software: PlayMemories Home, Image Data Converter Version 4 (via software download from camera)
Operating System Compatibility : PlayMemories Home: Windows XP SP3, Windows Vista SP2, Windows 7 SP1, Windows 8 (PlayMemories Home is not Mac compatible); PlayMemories Online Uploader: Windows XP SP3, Windows Vista SP2, Windows 7 SP1, Windows 8, Mac OS X (v10.5 - v10.8); Image Data Converter Version 4.2: Windows XP SP3, Windows Vista SP2,Windows 7 SP1, Windows 8, Mac OS X (v10.5- v10.8)
Power
Battery Type : InfoLITHIUM NP-BX1 (3.6V)
Battery Capacity : 1240 mAh
Number of Still Images : Approx. 350 images with LCD monitor (CIPA standard)
Power Consumption (in Operation) : Approx. 1.8W
Weights and Measurements
Dimensions (Approx.) : 4" x 2-9/32" x 1-1/2" (101.6 x 58.1 x 38.3 mm) excluding protrusions
Weight (Approx.) : With battery and Memory Stick PRO Duo Approx. 9.9 oz. (281 g)
Weight(Approx) (Main unit only) : 7.8 oz. (222 g)
Service and Warranty Information
Limited Warranty Term : 1 Year Parts & Labor