Specifications:
Display
Screen Size Diagonal (inches): 54.6
Aspect Ratio: 16:9
Number of Pixels: 2,073,600 (1,920 x 1,080)
Panel: IPS LED LCD
HDTV Display Capability (1080p, 1080i, 720p): Yes
Aspect Control: 480i/p: FULL, JUST, 4:3, ZOOM / 1080i/p: FULL, H-FILL, JUST, 4:3, ZOOM
Picture
Viewing Angle: 178 degrees
Filter: Clear Panel
Panel Drive: 1920 backlight scanning
24p Playback (3:2)/24p Smooth: Yes/Yes
24p Cinematic Playback: 48 Hz
Intelligent Scene Controller: Yes
Vivid Color Creation: Yes
Full HD 3D
3D Panel: Yes (Active)
3D 24p Cinema Smoother: Yes
2D-3D Conversion: Yes (with Face Detection)
Audio
Sound System: 3D Real Sound
Number of Speakers: Front Speaker (8 train speakers) x 2, Woofer (75 mm) x 1
Audio Output: 18 W (4 + 4 + 10)
Surround Sound: AV Surround
Jacks
Integrated ATSC Tuner: Yes
HDMI Input: null / 4 (4 side)
Support Feature: Audio Return Channel (Input 2)
SD Card: 3.0USB2.0: 2
Analog Audio Input (for HDMI/DVI): Yes
Composite Video Input shared with Component: RCA x 1 (lower)
Audio Input (for Composite Video): RCA x 1 (lower)
PC Input: D-sub 15-pin x 1 (lower)
Component Video Input (Y, PB, PR) shared with Composite: RCA x 1 (lower)
Audio Input (for Component Video): RCA x 1 (lower)
Ethernet: 1 (lower)
Digital Audio Output: 1 (lower)
General
VIERA Connect (IPTV): Yes
Web Browser: Yes
Skype while watching TV: Yes
Multitaskihng: Yes
Social Networking TV (Faceboook/Twitter): Yes
VIERA Remote App Support: Yes
VIERA Touch Pad Controller: Yes
Wireless LAN Adaptor: Yes (built-in)
DLNA: Yes
Media Player: null / yes (SD Card/USB)
Support Format: AVCHD Progressive/SD-VIDEO/MotionJPEG (Lumix)/MKV/MP4/MOV/M4v/FLV/3GPP/VRO/VOB/TS/PS, MP3/AAC/FLAC, JPEG/MPO
VIERA Link: Yes
VIERA Tools: Yes
Eco Mode: Yes
Game Mode: Yes
Trilingual Menu (English/Spanish/French): Yes
Built-In Closed Caption Decoder: Yes
Off - Timers: Yes
E-Help: Yes
Other
Power Supply: AC 110 - 127 V, 60 Hz
On Mode Average Power Consumption: 85 W
Receiving System: ATSC/QAM/NTSC
Operating Temperature: 32?F - 95?F (0?C - 35?C)
Safety Standard: US: UL60065/FCC Part15, CANADA: CSA C22.2/IC BETS-7
VESA Compatible: Yes
Picture Quality
Enjoy the Ultimate 3D Experience
Active Shutter Progressive 3D Method
The display alternately shows images for the left and right eyes. The left and right lenses of the eyewear open and close in sync with this display timing to show separate images to the left and right eyes. By repeating this action at high speed, the brain perceives 3D images. And because this method displays FULL HD 3D images just as they are, both eyes receive 3D images in high, full-HD quality.
Panasonic 'FULL HD 3D' is defined as follows:
Compatible with 1,080p 3D signal
Panel has native resolution of 1,920 x 1,080p display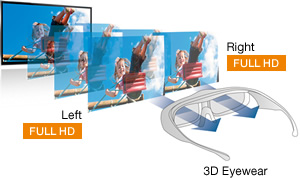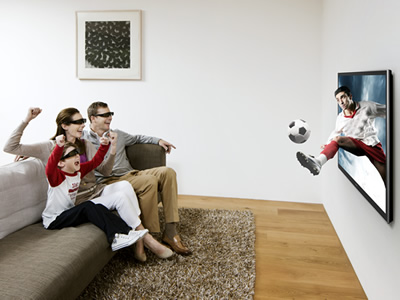 Smooth Reproduction of Fast Motion
1,920 Backlight Scanning
In addition to increasing the generated frames from 60 to 240 frames per second, backlight control has evolved through area splitting. The backlight's fine blinking reduces afterimages, to produce smooth, fast movements without blurring. Sports scenes, action scenes and other fast-motion images are crisp and clear.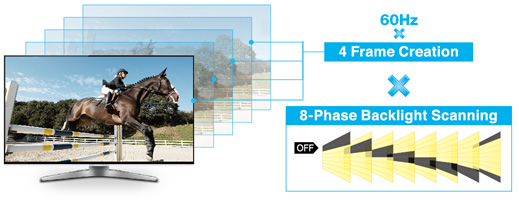 Reproducing Deep, Robust Blacks
Clear Panel Pro
Deep black expression is made possible by a new filter that suppresses external reflections. A new backlight area control technology also divides the display into 16 portions and provides more detailed brightness control to produce images with stronger contrast. Night skies are crisp with deep shades of black, and the surfaces of nighttime lakes and seas are vibrant and detailed.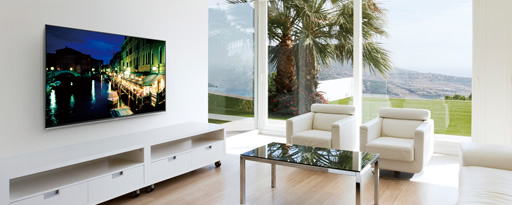 Color Reproduction Faithful to the Original
1,080p Pure Direct
The 1,080p Pure Direct function transmits and outputs high-quality YUV 4:4:4 30-bit video signals directly to the TV. This reproduces colors that are highly faithful to the original.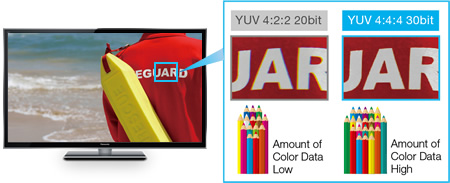 Beautifully Reproduced Crisp Lines
Pure Image Creation
Diagonal lines and edges are detected with high precision in each scene for all types of images, and optimal correction is applied to achieve beautiful, highly natural, noise-free lines.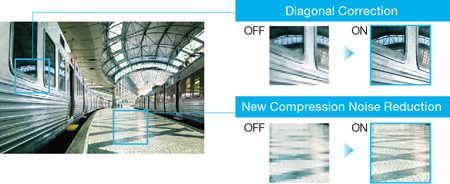 Expressive, Lifelike Colors
Vivid Color Creation
The brightness, saturation, contrast and sharpness of colors are finely compensated in each scene. Highly vivid colors are produced with hardly any mutual interference. People's faces are also detected, and skin tones are beautifully corrected to ensure soft, natural complexions.

Smooth Reproduction of Web Movies
Web Smoother
The blurring that often happens in web images is eliminated to produce naturally smooth motion.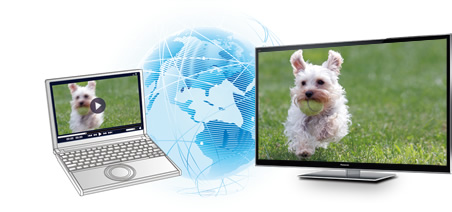 Easily Convert 2D Images into 3D
2D-3D Conversion
Unique Panasonic technology converts 2D images into high-quality 3D images in real-time. The image depth is analyzed from the compositional, color and brightness data of each scene, to convert 2D images into naturally beautiful 3D images. In addition to ordinary TV programs, this method can be used to convert a variety of 2D images ? such as web content, Blu-ray Disc media, and photos and movies saved onto SD Memory Cards ? into 3D images with a high level of precision.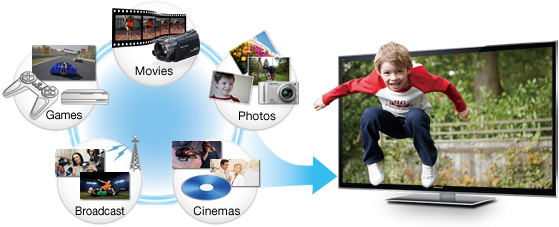 Naturally Flowing Film Images
3D 24p Cinema Smoother
The system analyzes the frames before and after, and generates and inserts three new frames. By displaying images with 96 frames compared to the 24-frame original source, smooth images are produced without the blurring that is typical of movies.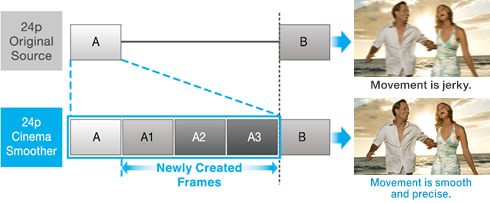 Image Calibration Customized to Your Home
ISFccc Calibration
An ISF-certified installer can calibrate your VIERA, so that image reproduction is customized to the actual viewing conditions in your home and your personal preferences. The calibration process provides the settings that bring out the full expressive potential within the image signals. Settings for contrast, tint, sharpness and color are optimized to meet your home's lighting conditions for both daytime and nighttime viewing.

Brilliant Images from Every Seat
Wide Viewing Angle
With VIERA's wide 178? viewing angle, you see clear, vibrant images from every seat in the room. The backlight features a wide transmission aperture that enhances contrast between light and dark and improves response to provide smoother motion images.

A New TV Sound Experience
3D Real Sound with 8-Train Speakers
Speaker System
8-Train Speakers
Eight dome-type microspeakers with reflectors deliver wide-ranging, high-quality sound. Only about 8 mm thick, these compact units also contribute to the beauty of the narrow-edge design.

Super Slim Sub-Woofer
The sub-woofer, which is mounted to the rear surface of the panel, delivers robust bass sounds. Its super slim design, with a thickness of only 11 mm, helps to keep the entire display attractively thin.

Sound Lifting Driver
Original Panasonic acoustic-field compensation technology produces highly accurate sound imaging. Matched to human auditory characteristics, the frequency for the bandwidth in which the sound is located is adjusted and the optimal compensation is applied.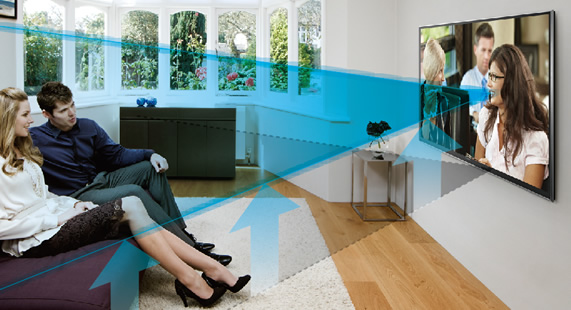 Change the Way You Operate
VIERA remote App Support: Smartphone Remote
VIERA remote App lets you use a smartphone or tablet device as a remote control. Tap and flick-based commands are intuitive. Text input is easy, too, with familiar keyboard operation. These handy devices also make great gamepads.