***OPEN BOX***
This NEW product you are browsing has been inspected by our certified technicians to ensure that it meets factory specifications. It is guaranteed to be in perfect working order but it is sold in "AS IS" condition (for example, the box may be torn, etc) and returns will not be accepted. Please contact us with any questions BEFORE placing an order.
We accept PayPal and all major credit cards. We do our best to describe each item we are selling to the best of our ability. Bear in mind that the Item is sold as-is with no warranty. Use the "contact us" page to request additional info or images on this product.
The Samsung H300 Full HD camcorder is the perfect modern recording device. Packed within its chic and compact design is has all the must-have features for capturing life on the go. It has a 30x optical zoom, advanced picture clarity, OIS Duo stability and even longer battery life, minimising the hassles of recharging. The H300 camcorder also features a brilliant 3? LCD screen, which lets you relive captured moments straightaway and with amazing picture clarity. Discover a more enjoyable side of life with the H300 camcorder by your side.
Get more life out of your battery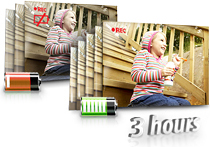 Enjoy low power consumption and a more efficient battery with Samsung?s advanced technology. With this innovative technology, you can enjoy up to three hours of battery life while recording your HD videos. That means you can continuously record your child?s baseball game without missing any of the action while changing batteries. Plus, you no longer have to carry around an extra battery or charger for those shorter trips. (Please note: This feature is available only while using the Continuous Recording mode with a bundled battery)
Shoot video that?s as clear as day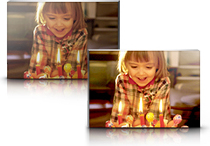 The Samsung H300 HD camcorder, with its advanced BSI CMOS technology, adds new light to your videos. The H300 uses a 1/4? 5M (1/6.3? 1.75M effective) Pixel BSI CMOS to deliver improved sensitivity compared to conventional CMOS sensors. By dramatically reducing image noise and distortion and enhancing recording quality during low light conditions, you can capture crystal-clear videos whether you?re at a birthday party in a dimly lit restaurant or at home recording your child?s first steps.
Say goodbye to shaky videos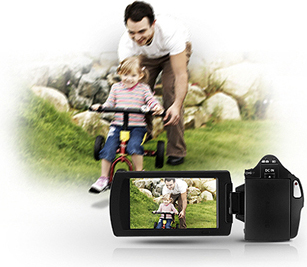 No longer will once-in-a-lifetime recording be ruined by shaky hands or blurred image. The H300 is equipped with the OIS Duo feature - a built-in optical image stabiliser combined with digital image stabilisation technology that quickly sets H300 apart from competing products. The OIS Duo automatically adjusts to compensate for even the slightest hand or body movements, resulting in steadier videos. What?s more, the OIS Duo maximises the area of stability at the same time, for crisp videos even when walking or moving around.
A bigger screen for better resolution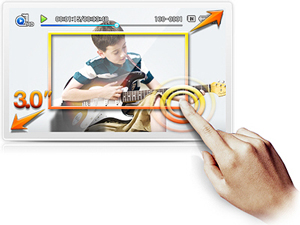 The Samsung H300 is the first entry-level HD camcorder that comes equipped with a 3? LCD screen. Compared to the standard 2.7? display, the 3? LCD screen is 20 larger which makes it easier to see what you?re shooting and capture clean, crisp images that are saturated with natural colour and deep, dynamic detail. Plus, the intuitive LCD touch screen interface makes using the H300 so easy, it?s a pleasure.
Be part of the action with 30x Optical Zoom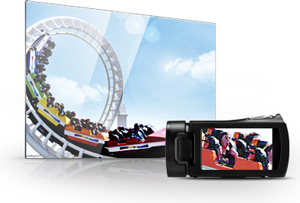 Get closer to the action with the Samsung H300?s 30x Optical Zoom lens. With more valid pixels than any competitor in its class, the 30x Optical Zoom lens lets you see more detail without having to get closer to the action. At 30x zoom, you can be sure that your videos will be clear, crisp, and perfectly captured every time.
The camcorder that adapts to your surroundings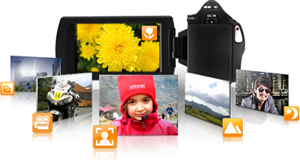 When you?re shooting, the last thing you want to worry about is adjusting your camcorder?s settings to compensate for varying light conditions or image details. Whether shooting landscapes or family portraits, the H300?s intelligent Smart Auto feature automatically selects the best shooting mode to capture video and even stills. Smart Auto has 10pre-set modes to manage a wide number of different shooting situations such as low lighting, portraits, sunsets, and more. No matter what the conditions are, Smart Auto will help you to take the perfect shot every time.
Take a break in the action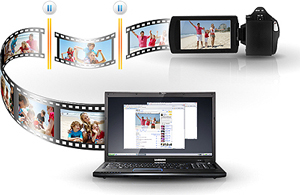 When shooting a long video, like a baseball game or a child?s play, you may want to take a break for any long pauses or intermission. With the H300?s Record Pause feature, you can pause the recording and then pick up right where you left off without creating a new file. This way you only have one file to work with and don?t have to merge files for editing, sharing or transferring. Now recording home movies and sharing them with your family has never been easier.