The Samsung Q20 follows on from the popular and innovative Q10, incorporating the new Switch Grip 2 which now includes Vertical Recording, increasing flexibility with three recording angles. The Switch Grip means that however the camcorder is held, the G-magnetic sensor inside recognises the angle and turns the LCD display so it?s easy to see and control recording from any angle.
The Q20?s stylish design houses 1080i Full HD recording, a 20x optical zoom and many creative functions in a slim and portable body. Ideal for busy young families, it is a lightweight and easy-to-use grab-and-go companion. Samsung?s new ?Shake It? feature incorporated in the Q20 gives an extra sense of fun to family movies, allowing artistic effects to be added randomly with a simple shake of the camera and Art time lapse effects including reverse time lapse can allow anyone to unleash their creativity! Meanwhile the camcorder?s One Touch recording function and touch-LCD make it easier than ever to control your recording and editing as you go.
SMART Capture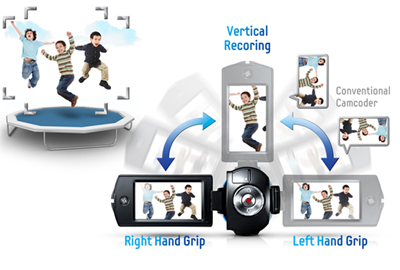 HD Video in the palm of either hand.
Switch Grip 2.0 allows you to switch hands without worrying about missing any of the action
Record both vertically and horizontally
One-button control makes recording and playing video easier than ever
20x optical zoom
SMART Creativity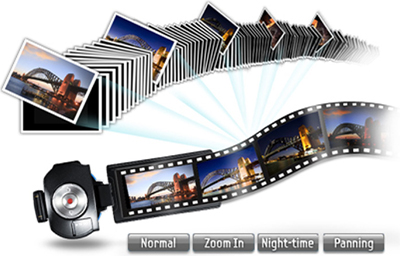 Smart and Fun.
OIS Duo and a new 5MP BSI CMOS Sensor ensure you will capture moments in beautiful color and clarity
Art Time Lapse creates an artistic effect that puts a different spin on your content
Smart BGM 2 allows you to choose your video?s background music and automatically adjusts audio levels