The SanDisk Extreme III CompactFlash is designed for serious professional photographers who demand one of the fastest, most rugged, and most durable memory cards on the market. Professional photographers who work under less than ideal conditions expect more from a flash memory card. More speed. More performance. More reliability. SanDisks new Extreme III card delivers everything you want plus a whole lot more!
That?s because only SanDisk Extreme III memory cards feature innovative ESP Technology for the fastest speeds and highest performance. ESP stands for Enhanced Super-Parallel Processing. Simply put, it means you are getting the fastest read/write speeds available an amazing minimum 20MB per second** sequential read and write speed speed you will definitely appreciate whenever you find yourself shooting and storing pictures in harsh environments, extreme temperatures or at high altitudes.
Every SanDisk Extreme III CompactFlash card comes with RescuePRO so you can recover images, documents, mail, video, music just about any digital file, with ease. Built with leading-edge media recovery algorithms, RescuePro lets you preview recoverable data before you try to retrieve it. With RescuePROs unique recovery algorithm for MPEG audio and MPEG video recovery (MPEG-1/2/3) what you see, and what you hear, is what you can recover.
Rely on SanDisk Extreme III cards when speed is critical to getting the right shot.
Advanced Features:
Designed to meet the critical speed and performance needs of serious professional photographers lets you quickly capture, view, upload and transfer large image files
Ideal for demanding photo shoots under severe weather conditions heat, cold, wind, rain, snow, etc.
Built to perform in the most extreme environments and temperatures from
-13 F to 185 F
-25 C to 85 C
Min 20MB/second** sequential read and write
Durable, reliable and thoroughly tested temperature tested (heat and cold); shock and vibration tested (industrial-grade RTV included for CompactFlash)
Data recovery software ensures your photos will always be there (even if you delete them accidentally)
Dedicated, priority technical support hotline for direct customers of SanDisk Extreme products
Included travel case keeps your memory cards organized
Lifetime limited warranty***
**Based on SanDisk internal testing
***Except Europe
Note: 1 megabyte (MB) = 1 million bytes; 1 gigabyte (GB) = 1 billion bytes. Some of the listed capacity is used for formatting and other functions, and thus is not available for data storage.
How many pictures can I store on my SanDisk Extreme III CompactFlash Card?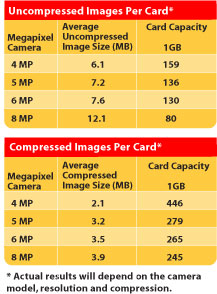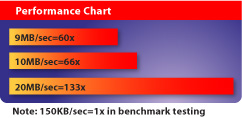 | | | |
| --- | --- | --- |
| | | |
| | | |