***OPEN BOX***
This OPEN BOX product you are browsing has been inspected by our qualified technicians to ensure that it meets factory specifications and includes all factory packed accessories. It is guaranteed to be in perfect working order but it is sold in "AS IS" condition (for example, the box may be torn, there may be cosmetic scratches, etc), returns will not be accepted unless the item is found to be defective. Please contact us with any questions BEFORE placing an order. We accept PayPal and all major credit cards. We do our best to describe each item we are selling to the best of our ability. Bear in mind that the item is sold as-is.
Use the "contact us" page to request additional information or images on this product
This high ratio zoom lens incorporates Sigma's original OS (Optical Stabilizer) function and exclusively designed for digital SLR cameras. It is perfectly suitable for low light conditions, indoors, at dusk and telephoto range. SLD (Special Low Dispersion) glass and aspherical glass provide excellent correction for all types of aberrations. This lens has a minimum focusing distance of 45cm (17.7inch) throughout the entire zoom range and has a maximum magnification of 1:3.9. The inner focusing system is suitable for using a petal-type lens hood supplied and also circular polarizing filters.
Features:
Exclusively designed for use with digital SLR cameras featuring APS-C size image sensor.
High zoom ratio 11:1.
Compact, Lightweight and Durable construction with diameter of 70mm (2.8"), length of 78.1mm (3.1") and weight of 405g./14.3oz.
Lens has Metal Mount.
Minimum focusing distance of 45cm (17.7") at all focal lengths.
Sigma's own unique technology OS (Optical Stabilizer) function
The 18-200mm f3.5-5.6 OS is equipped with Sigma's own unique OS (Optical Stabilizer) technology. This system uses two sensors inside the lens to detect vertical and horizontal movement of the camera by moving an optical image stabilizing lens group, to effectively compensate for camera shake. It also automatically detects panning movement of the camera and compensate for camera shake when shooting moving subjects such as motor sports.
Excellent Optical Performance
A Special Low Dispersion (SLD) lens and three aspherical glass elements provide excellent correction for all types of aberrations and produce a high level of optical performance throughout the entire zoom range. The super multi-layer lens coating reduces flare and ghosting while producing the best color balance.
Enables close-up photography
This lens has a minimum focusing distance of 45cm through entire zoom range with a maximum magnification of 1:3.9 making it very convenient for taking close-up pictures.
Inner focusing system
Because the front of the lens does not rotate, circular polarizing filters and a petal-type hood can easily be used.
Magnification scale
A magnification scale is displayed on the lens barrel, ensuring ease of use.
Zoom lock switch mechanism
A zoom lock switch mechanism is provided to prevent the lens from creeping due to its own weight.

Specifications:
Lens Construction
15 Elements in 13 Groups
Angle of View
69.3 - 7.1 degrees (Sigma SD format)
Number of Diaphragm Blades
7 Blades
Minimum Aperture
F22
Minimum Focusing Distance
45cm / 17.7 in.
Maximum Magnification
1:3.9
Filter Size
Diameter 72mm
Lens Hood
Petal Hood
Dimensions
Diameter 79mm X Length 100mm
3.1 in. x 3.9 in.
Weight
610g / 21.5 oz.
Corresponding AF Mounts
SIGMA,
CANON,
NIKON,
MTF Chart: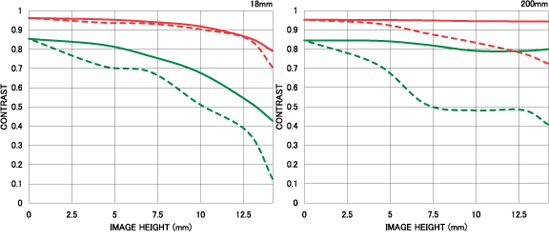 PLEASE NOTE: This lens is designed exclusively for Digital SLR's with APS-C sized sensor and is not compatible with 35mm film SLR cameras or digital cameras with larger image sensors like the Canon 1D series.