1 TB My Book Mirror Edition Dual-drive Storage System with Mirroring (1 TB / 500 GB Mirrored), USB 2.0
The safest place for your data

Secure your vital data with WD's My Book Mirror Edition dual-drive storage system with RAID Mirroring. With RAID-based continuous data protection, automatic data backup software, and user-serviceability, this is the perfect backup system for your irreplaceable data.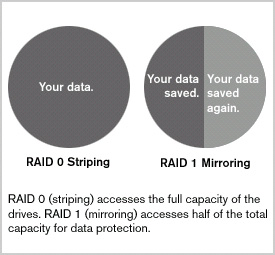 WD's My Book Mirror Edition dual-drive storage system automatically mirrors your valuable data for extra protection. The USB 2.0 interface and a powerful combination of features make this system the storage solution of choice for photographers, home users, small offices, and anyone looking for extra assurance that their data is safe.

Product Features
The safest place for your data - Using RAID mirroring technology, this system automatically and continuously duplicates your data for the ultimate in data protection. If one drive in this two-drive system ever fails, the system continues to run and your data is safe. How's that for peace of mind?

Automatic backup software - Back up your computer - just set it and forget it. Every time you save a change it's backed up and then mirrored on the second drive for the ultimate in data protection.

Cooler, quieter, eco-friendlier - Designed to use only WD drives with GreenPower? technology, this system, with its efficient convection cooling architecture, fan-less design, and power saving mode, is reliably cool, remarkably quiet and consumes up to 33% less power* than standard systems.



* Tests based on comparison between a 1 TB dual-drive system using 7200 RPM drives and a 1 TB dual-drive system using WD's GreenPower drives.



Easy to set up, easy to use - You're up and running in a few simple steps. WD's intuitive RAID wizard software lets you easily modify your RAID settings.

Capacity Gauge - See at a glance how much space is available on your drive.

User serviceable - Want to upgrade a drive? Simply open the case and replace the existing drive ? no screwdriver needed.

NOTE: RAID 0 (striped) accesses the full capacity of the drives. RAID 1 (mirrored) accesses half of the total capacity for data protection.

Ideal for
Gain peace of mind with this true data guardian
Organize and archive vast photo, music, and artwork libraries
Edit and exchange massive audio and video projects

System Requirements


Available USB port
Mac? OS X 10.4.11+, 10.5.2+
Windows? 2000/XP/Vista

Package Includes
Dual-drive storage system
USB cable
AC adapter
Software CD
Quick Install Guide
Click Here to download a PDF version of the chart.