This is the era of capturing moments with digital video. Whether it's a vacation on the beach or your kid's first stage performance, we record it all. You can spend thousands of dollars on equipment and a 1080p camcorder, but it isn't really necessary, especially when you're just starting out. We're going to take a look at two of the best but cheap camcorders that cost under $300! We're going to compare the Canon HF R800 vs Sony CX405 to show you that a cheap camcorder can be a quality camcorder!
Canon Vixia HF R800 Benefits
Are you planning on doing some traveling? Do you want a compact, lightweight camcorder to bring along with you so you can capture all of the best moments along the way? A good option to consider is the Canon VIXIA HF R800 camcorder from Buydig.com. It has a Digic DV 4 image processor and a 3.28 MP full HD CMOS image sensor, so you're always going to get crisp, clear shots, even at distances. The DIGIC DV 4 Image Processor helps you to capture just the right amount of light so you have bright images that are virtually free of noise, even when you're shooting in low light conditions. The Canon Vixia HF R800 is the ideal travel camera because the Canon Vixia HF R800 zoom allows you to capture tons of exciting scenery. The 57X advanced zoom feature lets you create amazing videos. When using manual mode, this feature lets the camera go from the 35mm equivalent of 32.5mm up to 1853mm. The Canon Vixia HF R800 is loaded with features, including Highlight Priority mode that has backlight correction, so all of your subjects are always perfectly lit. The SuperRange Optical Image Stabilizer corrects camera shake, so you can even shoot handheld without worrying about a lot of blurred images. The Dynamic Image Stabilization handles the rotational camera shake. The Canon Vixia HF R800 camcorder will record full HD videos direct to your removable SD memory card. This allows you to share your videos easily. You can also use super-high capacity SDXC cards which have up to 2048GB of space. You can play with some pretty cool effects with this camera, including slow and fast motion recording. Slow it down to 0.5X, or speed it up as much as 1200X.
Sony HDR CX405 Benefits
Why buy a camcorder, and then get all of the accessories separately, when you can save money by getting everything you need in one bundle package? When you buy the Sony Handycam CX405 camcorder, you get just that. It comes with everything you need to start shooting awesome videos as soon as you take it out of the box and charge up the battery. This Sony Handycam CX405 camcorder shoots in full HD 60p, ensuring great video quality for anything you're shooting. You can create cinematic videos as well as high quality still photos up to 9.2MP. You can save files in an MP4 wrapper. This lets you have longer recording times, and it makes editing a whole lot easier. You'll receive the camera, battery, charger, Spider tripod, memory card and wallet, card reader, mini tripod, screen protectors, cleaning kit, HDMI to HDMI cable, and more in this bundle from Buydig.com. This Sony Handycam CX405 is a great camera for shooting in low light conditions, offering great low light sensitivity and better image clarity without a lot of noise, thanks to the Exmor R CMOS sensor. Because of the Sony camcorder sensor size, you can get really close to your subjects, even if you're shooting at a distance. This Sony Handycam CX405 camera features a 30X optical zoom, along with a 60X Clear Image Digital Zoom, which keeps images crisp and clear. The Sony Handycam CX405 features a 26.8mm wide-angle ZEISS lens, a company that is known for quality lenses. The wide-angle lets you get more in the shot.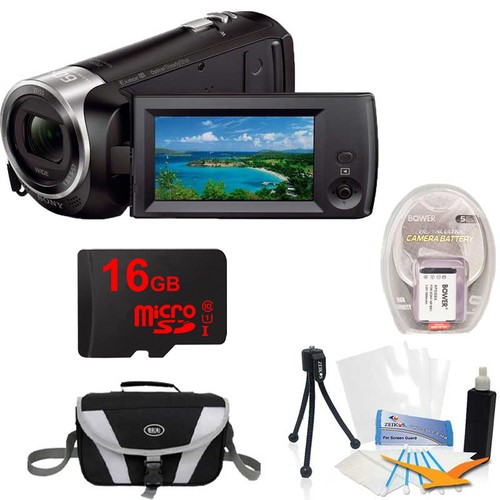 Conclusion
Canon's HF R800 is Canon's best cheap camcorder, yet is packed with a lot of features. A surprising feature in this best cheap camcorder is the inclusion of an External Microphone Jack. This will give you more options for quality sound, and a headphone jack will allow you to monitor your audio. This is an excellent HD camcorder for the money. If you want the best camcorder with decent features and a budget-friendly price point, the Sony Handycam CX405 gives you the best of both worlds. From full HD videos and pictures to image stabilization to face detection and more, you'll be amazed at the number of features you'll find on this little camcorder.